Description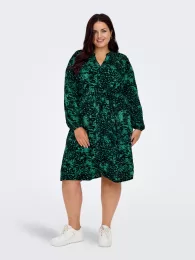 Details: midi dress
Only Carmakoma Midi Dress
O-Neck
Long sleeves
Above knee
Belt accentuating the waist
Regular Fit
100% Viscose – Livaeco by Birla Cellulose™
Style No: 15306037
Further Information:
A green jungle leopard print midi dress is a striking fashion piece that seamlessly blends the allure of the wild with contemporary style. This dress is an expression of boldness and individuality, combining the classic leopard print pattern with a lush green color palette to create a distinctive and eye-catching garment.
The primary feature of this midi dress is its vivid green hue, reminiscent of the lush foliage of a tropical jungle. This rich and vibrant shade of green evokes feelings of freshness, growth, and adventure, making it a standout choice for those who crave a unique and spirited look.
Printed onto this green is the iconic leopard print pattern. The leopard print is known for its timeless appeal, symbolizing strength and sensuality. It consists of dark spots, resembling the markings of a leopard, dispersed irregularly across the fabric. In the context of this dress, the leopard print takes on a unique twist, as it's infused with the green color scheme, creating a fusion of nature-inspired patterns and animalistic motifs.
The midi length of the dress falls gracefully below the knee, offering a balanced and elegant silhouette. This length is both fashionable and versatile, suitable for a range of occasions, from casual outings to more formal events.
The jungle leopard print midi dress is a statement piece that doesn't require elaborate accessories. Pair it with simple, neutral-colored shoes and minimal jewelry to let the dress take center stage. Alternatively, add a contrasting belt to define the waist and accentuate your curves for a more tailored look.
Its vibrant green hue combined with the iconic leopard print pattern creates a unique and visually stunning garment that's perfect for those looking to make a bold fashion statement.