Description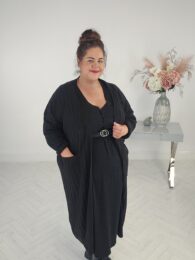 Details: long open cardigan
Only Carmakoma Long Open Black Cardigan
fully open
long length below the knee
2 pockets
long sleeves
smooth pattern
regular fit
100% acrylic
Shop the beige (click here)
Style No: 15282289
Further information:
A long open cardigan is a versatile and essential piece of outerwear that effortlessly combines comfort, style, and functionality. This popular clothing item is a must-have in any wardrobe, offering a cozy layering option.
The defining feature of a long open cardigan is its length, typically extending below the hips or even down to the knees. It's designed to be open, lacking buttons or zippers, making it easy to slip on and off. The long, flowing cardigan has a relaxed fit that suits a wide range of body types.
This long cardigan is made from 100% acrylic.
The neckline is an open, v shape.
One of the key advantages of a long open cardigan is its incredible versatility. It serves as a fantastic layering piece, easily worn over a variety of outfits, such as a funky t-shirt and jeans for a casual look, a blouse and trousers for a more polished ensemble, or even a dress for a touch of elegance. Its open front allows for creative styling, whether you choose to wear it loosely draped, belted at the waist for a cinched look, or even draped over your shoulders as a shawl.
They can be your go-to choice for a cozy day at home, a stylish addition to your work attire, or a comfortable layer for running errands. Additionally, they're perfect for those in-between seasons when you need a little extra warmth without the bulk of a heavy coat.
Its flowing silhouette and adaptability to different occasions make it a go-to piece for effortless style and comfort year-round. Whether you're bundling up for winter or looking for a chic layering option in warmer weather, a long open cardigan is a reliable and fashionable choice.
Check out our daily videos on Facebook (click here)