Description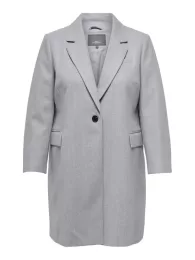 Details: womens light grey coat
Only Carmakoma Light Grey Coat
midi length
one button closure
2 pockets
recycled polyester
more coats available (click here)
Style no: 15295413
Further information:
A ladies' coat is a versatile and essential piece of outerwear designed to provide both warmth and style. These coats come in various styles, fabrics, and lengths, catering to the diverse tastes and needs of women.
Fabrics play a crucial role in the functionality and aesthetic of a ladies' coat. Wool coats are timeless classics, providing warmth and a luxurious feel. They are perfect for formal occasions or chilly winter days. For a more casual and lightweight option, cotton or denim coats are great choices, suitable for transitional seasons. If you're braving the elements, down-filled or waterproof coats are designed to keep you warm and dry, making them ideal for outdoor activities.
The length of a ladies' coat also contributes to its overall look and function. Knee-length coats are versatile and can be dressed up or down, making them suitable for various occasions. Long overcoats provide extra warmth and coverage during the coldest months, while shorter jackets offer a youthful and sporty appearance.
Details like buttons, zippers, and pockets can elevate the coat's style and functionality. Pockets are not only practical for storing essentials but also add to the coat's overall design.
Colour choices range from classic neutrals like black, gray, and camel to more vibrant options like red, blue, or even orange. The colour can reflect personal style and match other wardrobe pieces.
Whether chosen for its style, warmth, or versatility, it's an essential addition to any woman's wardrobe, offering endless possibilities for expressing personal style while staying comfortable and protected from the elements. The ladies' coat is a fashion staple that transcends seasons and trends.
Check out our daily videos on facebook showing you how to style your items (click here)