Description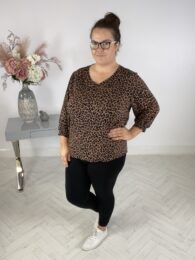 Details: leopard print top
Only Carmakoma Leopard Print Blouse
100% Sustainable viscose
V-neck
3/4 sleeves
Rounded hem
Smock elastic at the sleeve
Longer at the back
100% Viscose LENZING-ECOVERO
Style No: 15304552
Further information:
A leopard print V-neck top is a captivating and versatile fashion item that effortlessly combines the boldness of leopard print with the chic style of a V-neck neckline.
At its core, the leopard print V-neck top is defined by its striking and distinctive pattern. It features the iconic leopard print, characterized by dark rosettes and spots scattered across a lighter background. This pattern is known for its ability to make a bold fashion statement, evoking a sense of confidence and adventurous spirit in those who wear it.
The V-neck neckline of this top adds a touch of elegance and femininity to the overall design. The V-shaped neckline elongates the neck and draws attention to the décolletage, creating a flattering and alluring effect. It strikes a balance between revealing and modest, making it suitable for a wide range of occasions, from casual outings to semi-formal events.
The cut of the top is typically designed to flatter the figure, with a tailored fit that skims the body without being overly tight. This tailored silhouette enhances the wearer's natural curves and ensures a comfortable yet stylish look. The sleeves can vary in length, from short sleeves for a more casual look to long sleeves for added versatility.
A leopard print V-neck top is a versatile wardrobe piece that can be styled in numerous ways. It pairs effortlessly with various bottom options, such as jeans, trousers, skirts, or lleggings, making it suitable for both casual and dressier occasions. Layering options abound, with the top looking chic under blazers, cardigans, or leather jackets.
Wearing a leopard print V-neck top conveys a sense of confidence and individuality. It's a piece of clothing that allows the wearer to make a statement while exuding a fashionable and bold aura.
Check out our daily facebook videos for style tips (click here)