Description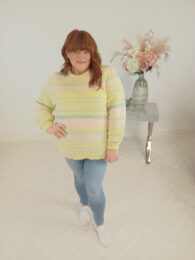 Details: ladies jumpers
Only Carmakoma Knitted Jumper
Knitted pullover
O-Neck
Long sleeves
Curve
57% Recycled Polyester, 43% Polyester
Style No: 15296459
Further information:
A yellow jumper is a vibrant and stylish piece of clothing that combines warmth, comfort, and a pop of color to brighten up your wardrobe. This type of jumper is a versatile addition to any closet, suitable for various seasons and occasions.
The jumper typically features a rounded neckline, commonly referred to as an O-neck or crewneck. This neckline style is classic and timeless, providing a balanced and modest look. The jumper has a relaxed and comfortable fit, allowing for easy movement and layering.
The standout feature of this jumper is its sunny yellow colour. Yellow is a vibrant and cheerful hue that radiates positivity and energy.
A yellow jumper is a versatile piece of clothing that can be styled in numerous ways. You can wear it casually with a pair of jeans or leggings for a laid-back look. For a more polished outfit, tuck it into a skirt or high-waisted trousers and add accessories like a statement belt or scarf. Its bright color can also serve as a statement piece in an otherwise neutral ensemble, adding a touch of playfulness to your outfit.
This jumper is suitable for a variety of occasions. Its cozy and relaxed design makes it perfect for casual outings, lounging at home, or running errands. Yet, it can also be dressed up for a more formal setting with the right accessories and bottoms, making it a versatile choice for work, dinners, or social events.
A jumper is a wardrobe staple that combines comfort and style effortlessly. Its classic design, cheerful color, and adaptability to different situations make it a valuable addition to any fashion-conscious individual's closet.
We have a wide variety of jeans and leggings available on our website.