Description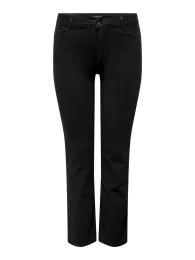 Details: black jeans women
Only Carmakoma Jeans
Curve styles are designed to fit the curved female body
Straight fit jeans
High waist
69% Cotton, 29% Recycled Polyester, 2% Elastane
Style No:  15256784
These straight fit jeans have a bit of room in the thigh and a comfortable straight leg down to the hem
Style No: 15256784
Further Information:
Black denim jeans are a timeless and versatile fashion staple that seamlessly blend style, comfort, and durability. These jeans, typically crafted from black-dyed denim fabric, have become an essential piece in the modern wardrobe, offering a sleek and edgy alternative to classic blue jeans.
The fabric used for black denim jeans is usually a sturdy cotton twill, known for its durability and ability to hold its shape over time. This dense weave gives the jeans a rugged yet refined texture, making them suitable for both casual and semi-formal occasions.
Distinctive details often found on black denim jeans include classic five-pocket styling with rivets, belt loops for accessorizing with your favorite belts, and a button or zipper fly for easy wear. Some designs may also feature unique embellishments like distressed patches, embroidery, or whiskering for added personality.
The versatility of black denim jeans extends beyond their aesthetic appeal. They are equally comfortable and durable, making them suitable for everyday wear. The fabric molds to your body over time, ensuring a personalized fit that becomes increasingly comfortable with each wear.
Black denim jeans are not only fashionable but also practical. Their dark color hides stains and wear more effectively than lighter shades, making them an excellent choice for individuals with an active lifestyle. Regular maintenance and proper care can help maintain the rich black color and fabric quality over the long term.
Check out more styles of jeans on our website or call the girls to discuss the fit of jeans to suit your shape.