Description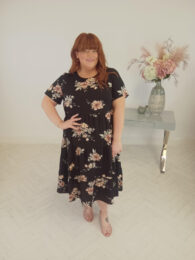 Details: midi dress for women
Only Carmakoma Floral Midi Dress
Short sleeves
Round neckline
Light and slightly elastic polyester blend
Suitable for both everyday use and parties
97% Polyester, 3% Elastane
Style No: 15304518
Further information:
A midi dress is a classic and timeless garment that strikes the perfect balance between elegance and comfort. Its name, "midi," refers to its length, typically falling between the knee and the ankle, making it a versatile and flattering choice for various occasions and body types.
Key features of a midi dress include:
The midi dress is known for its moderate length, which falls anywhere from just below the knee to mid-calf.  This length provides coverage while showcasing a portion of the leg, offering a tasteful and sophisticated look.  The neckline can influence the dress's formality and style, allowing you to choose one that complements your personal taste.   Midi dresses can have various sleeve lengths, including sleeveless, short sleeves, three-quarter sleeves, or long sleeves. This versatility ensures that there's a midi dress suitable for every climate and event.
Midi dresses have an enduring appeal due to their ability to suit a wide range of settings and styles. They are perfect for everything from summer weddings and garden parties to office meetings and dinner dates. The length offers a touch of sophistication, while the variety of designs and fabrics ensures there's a midi dress for every season and fashion preference.
A midi dress is a versatile and timeless garment that combines grace and comfort. Its moderate length, diverse silhouettes, and choice of fabrics and details make it a versatile addition to any wardrobe. Whether you're aiming for a casual, chic, or sophisticated look, the midi dress offers a stylish and flattering option for various occasions.
Kerri has styled her dress with a nude block heel sandal giving a more dressed up look but you could equally wear it with flats or trainers for a more casual look.
Check out our daily videos here.