Description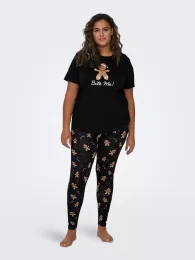 Details: christmas pajamas
Only Carmakoma Christmas Pajama Set
leggings
short sleeves
black
95% Organic Cotton, 5% Elastane
shop more Christmas items (click here)
Style no: 15305646
Further information:
The black Christmas pajamas with a charming gingerbread man graphic evoke a festive and cozy holiday ambiance. Crafted from soft, high-quality cotton, these pajamas offer unparalleled comfort, making them ideal for snuggling up by the fireplace on a chilly winter evening. The deep, velvety black hue serves as a canvas for the vibrant gingerbread man graphic, which adds a delightful touch of whimsy to the ensemble.
The gingerbread man graphic, meticulously adorned with intricate icing details and adorned with colorful gumdrop buttons, exudes a playful yet classic Christmas charm. With its smiling face and outstretched arms, the gingerbread man embodies the spirit of warmth and joy, instantly spreading a sense of merriment and cheer. The contrast between the black background and the vivid colors of the gingerbread man creates a striking visual appeal, capturing the essence of the holiday season.
Embellished with subtle festive elements such as twinkling snowflakes and delicate candy cane accents, the pajamas radiate a subtle yet unmistakable yuletide charm. The impeccable attention to detail in the design, from the intricate stitching to the precise placement of each element, showcases the dedication to creating a truly magical and heartwarming Christmas attire.
The snug fit of the pajamas, coupled with their gentle elasticity, ensures unrestricted movement and unparalleled comfort, allowing one to relax and unwind with ease. The soft, breathable fabric gently caresses the skin, providing a luxurious and soothing sensation, perfect for a restful night's sleep or a relaxing day spent indulging in holiday festivities.
Overall, the black Christmas pajamas with a gingerbread man graphic are not just an apparel choice; they are an embodiment of the festive spirit, encapsulating the joy, warmth, and nostalgia that make Christmas a cherished and magical time of the year.
Check out our daily videos on facebook.