Description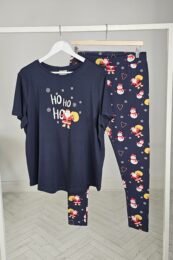 Details: christmas pajamas
Only Carmakoma Christmas Pajama Set
leggings
short sleeves
navy
95% Organic Cotton, 5% Elastane
shop more Christmas items (click here)
Style no: 15305646
Further information:
The navy Christmas pajamas adorned with a jolly "Ho Ho Ho" Santa graphic exude a classic and festive holiday charm. Crafted from luxurious, soft cotton, these pajamas offer the perfect blend of comfort and style, ideal for embracing the holiday spirit while lounging by a crackling fire or enjoying a cozy family gathering.
The deep navy hue of the pajamas serves as a sophisticated backdrop for the vibrant and cheery Santa graphic. The "Ho Ho Ho" text, playfully rendered in white, captures the essence of Santa's infectious laughter, instantly evoking a sense of merriment and joy. The carefully crafted graphic depicts Santa Claus himself, with his iconic rosy cheeks, twinkling eyes, and flowing white beard, radiating warmth and goodwill.
Enhancing the festive allure of the pajamas, subtle details such as snowflakes and snowmen adorn the design, creating a harmonious blend of traditional Christmas elements. The meticulous attention to detail in the print captures the magic of Christmas but also embodies the highest standards of craftsmanship and quality.
The pajamas' relaxed yet snug fit ensures optimal comfort and freedom of movement, making them perfect for leisurely evenings or festive mornings spent opening presents and savoring holiday treats. The breathable fabric gently envelops the skin, providing a luxurious sensation that is both indulgent and soothing, contributing to a sense of well-being and relaxation during the holiday season.
In summary, the navy Christmas pajamas with the Santa "Ho Ho Ho" graphic are more than just a piece of clothing; they are a celebration of the enchanting spirit of Christmas, capturing the joy, warmth, and timeless wonder that make the holiday season so cherished and magical.
Check out our daily videos on facebook.