Description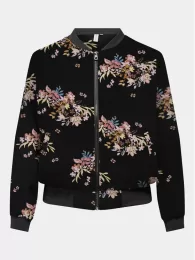 Details: plus size clothing
Only Carmakoma Bomber Style Jacket
zip closure
regular fit
flower pattern
97% polyester, 3% elastane
shop tops (click here)
Style no: 15309707
Further information:
The floral black bomber-style jacket is a captivating fusion of edgy streetwear and feminine elegance, creating a statement piece that effortlessly commands attention. This jacket represents a modern twist on a classic silhouette, combining the boldness of a bomber style with the softness of a floral pattern, resulting in a harmonious juxtaposition that defines contemporary fashion.
The deep black hue serves as a sleek backdrop for the vibrant floral design, lending a touch of mystery and sophistication to the overall aesthetic. The jacket's bomber silhouette features a ribbed collar, cuffs, and hem, giving it a sporty edge while enhancing its versatility. The juxtaposition of the structured bomber shape against the fluidity of the floral pattern creates a dynamic visual appeal, offering a perfect balance between toughness and grace.
The floral pattern, rendered in an array of colors, introduces a lively and expressive element to the jacket. The intricately designed blooms, whether they be delicate roses, bold sunflowers, or exotic orchids, breathe life into the darkness of the black fabric. The detailing may extend to leaves, vines, or abstract floral arrangements, creating a captivating tapestry that tells a story of nature's beauty meeting urban chic.
Crafted from high-quality materials, the jacket ensures both comfort and durability. The black bomber-style jacket becomes a versatile wardrobe piece, seamlessly transitioning from casual outings to more polished ensembles. Whether paired with distressed jeans and sneakers for an effortlessly cool street style look or layered over a sleek dress for a juxtaposition of casual and elegant, the floral black bomber jacket is a wardrobe chameleon that effortlessly adapts to various style preferences.
In essence, the floral black bomber-style jacket is a celebration of contrasts—merging the toughness of street-inspired fashion with the delicacy of nature-inspired patterns. It's a bold yet graceful addition to any wardrobe, embodying the spirit of contemporary fashion that is both daring and enchanting.
Check out our daily videos on facebook.