Description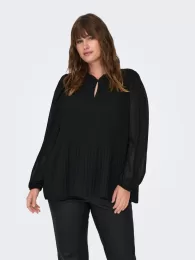 Details: black tops for women
Only Carmakoma Black Plisse Blouse
Plissé top
O-Neck
Long sleeves
Button neck opening
Regular Fit
100% Polyester
Shop more blouses (click here)
Style No: 15302015
Further information:
A black blouse is a timeless and versatile piece of clothing that holds a special place in the world of fashion. Its elegance lies in its simplicity and the way it effortlessly complements a wide range of styles and occasions. This classic wardrobe staple is a must-have for many women, offering both sophistication and comfort.
The first thing that strikes you about a black blouse is its colour. Black is a universally flattering shade that exudes an aura of elegance and sophistication. It is a colour that transcends trends and seasons, making it a reliable choice for any occasion. Whether you're attending a formal event, heading to the office, or going out for a casual dinner, a black blouse can be your go-to option.
The fabric of a black blouse can vary, adding to its versatility. Silk black blouses are synonymous with luxury and exude a sensual, soft sheen. Cotton black blouses are perfect for everyday wear, providing comfort and breathability. Lace or chiffon black blouses add a touch of femininity and delicacy to your outfit, making them ideal for romantic evenings.
Black blouses are incredibly versatile in terms of pairing with other clothing items. They can be worn with jeans for a chic casual look, paired with a skirt for a more polished ensemble, or tucked into slacks for a professional appearance. Adding accessories like statement necklaces, scarves, or belts can further enhance the versatility of a black blouse, allowing you to adapt it to various settings and moods.
Its understated elegance, range of fabrics and styles, and compatibility with various outfits make it a go-to choice for women looking for a versatile and timeless piece of clothing.
Check out our daily videos on facebook for style tips, sizing & new arrivals (click here)