Description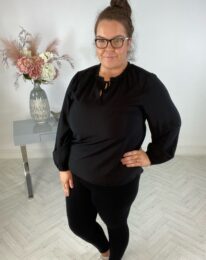 Details: plus size clothing
Only Carmakoma Black Blouse
long sleeves
tie v-neck
frill collar
elastic cuffs
80% viscose 20% nylon
shop bottoms (click here)
Style no: 15309077
Further information:
The black blouse with a tie neck and long sleeves is a timeless and sophisticated piece that effortlessly combines classic design with modern elegance. Crafted with meticulous attention to detail, this blouse is a versatile wardrobe staple that exudes both refinement and comfort.
The tie neck is a standout feature, adding a touch of vintage-inspired charm to the blouse. The delicately tied bow creates a focal point that draws attention to the neckline, offering a subtle yet impactful detail. This design element not only elevates the blouse's aesthetic but also allows for customization in styling, enabling the wearer to adjust the tie to their preference.
The long sleeves contribute to the blouse's versatility, providing coverage and a sense of polished sophistication. The sleeves are tailored with precision, ensuring a comfortable fit that complements the overall silhouette. Whether worn casually or in more formal settings, the long sleeves add a layer of sophistication to the blouse, making it suitable for a variety of occasions.
Constructed from 80% viscose, the blouse boasts a luxurious feel against the skin. Viscose, known for its softness and breathability, ensures that the blouse drapes gracefully, providing comfort throughout the day. The fabric's natural sheen enhances the overall richness of the black hue, adding a touch of subtle elegance to the garment.
The blend of viscose also contributes to the blouse's durability and ease of care, making it a practical choice for everyday wear. The fabric's lightweight nature allows for ease of movement, ensuring the wearer feels both comfortable and stylish.
The black colour of the blouse adds a classic and versatile element, making it a wardrobe essential that can be effortlessly paired with various bottoms, from tailored trousers to skirts or jeans. Whether worn to the office or for a stylish evening out, this black blouse epitomizes timeless sophistication and is a must-have for those who appreciate the fusion of classic and contemporary fashion.
Check out our daily videos on facebook.