Description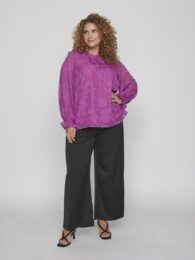 Details: plus size clothing
Evoked Vila Long Sleeve Blouse
Long sleeve detailed top
Cattleya Orchid
Split neck with tie string fastening
Elastic frill cuffs
Sheer sleeves
Lined
Regular fit
Outer: 55% Recycled Polyester, 45% Polyester; Lining: 100% Polyester
Shop trousers (click here)
Style no: 14090543
Further information:
The long sleeve detailed blouse with a tie neck in cattleya orchid is a botanical masterpiece that seamlessly marries elegance with a touch of vintage charm. The choice of cattleya orchid as the colour for this blouse adds a layer of sophistication, as the rich, orchid-inspired hue evokes a sense of femininity and refinement.
The blouse's long sleeves are a testament to its versatility, providing both coverage and a sense of grace. The detailed cuffs add an extra touch of sophistication, featuring intricate patterns or delicate embellishments that catch the eye without overwhelming the overall design. These sleeves create an elongated silhouette, making the blouse suitable for a variety of occasions, from professional settings to upscale events.
The standout feature of this blouse is the tie neck, which exudes a timeless and romantic appeal. The delicate tie can be styled in a bow for a classic look or left loosely hanging for a more relaxed feel. This element adds a touch of vintage flair, harking back to an era of timeless fashion while remaining contemporary and fresh.
The cattleya orchid hue, reminiscent of the exotic flower it is named after, complements a range of skin tones and can easily transition from day to night. The blouse's attention to detail extends to the fabric, which is chosen for its luxurious feel against the skin. Whether it's a silky texture or a lightweight chiffon, the blouse drapes gracefully, enhancing the overall comfort and aesthetic appeal.
Pairing this blouse with tailored trousers, a pencil skirt, or even denim jeans allows for a variety of stylish outfit choices. The cattleya orchid long sleeve detailed blouse with a tie neck is a statement piece that effortlessly captures attention while embodying the essence of sophistication and femininity. It's a wardrobe essential for those who appreciate the beauty of intricate details and timeless design.
Check out our daily videos on facebook.