Description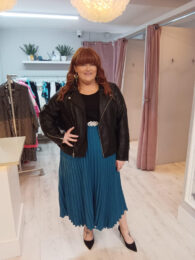 Details: midi skirts for women
Evoked Midi Skirt
plisse pleated detail
Kerri has styled this skirt with our very popular biker jacket
teal/moroccon blue
midi length
lined
high waisted
recycled polyester
Style No: 14090354
Further Information:
A pleated midi skirt is a timeless and versatile fashion piece that exudes elegance and charm. This classic garment combines style and comfort, making it a staple in many wardrobes.
Typically falling below the knee but above the ankle, offering a flattering silhouette that suits various body types. Its versatile length strikes a perfect balance between the sophistication of a maxi skirt and the playfulness of a mini skirt, making it appropriate for a wide range of occasions.
What sets a pleated midi skirt apart is its distinctive design featuring neatly arranged pleats. These pleats are small, evenly spaced folds of fabric that create a unique texture and dimension to the skirt. The pleats are not only aesthetically pleasing but also functional, allowing for ease of movement and comfort while walking.
Pairing a pleated midi skirt with a black cami or top tucked-in and a biker jacket or black denim jacket can create a polished and sophisticated look ideal for the office or a dinner date. For a more casual ensemble, combine it with a graphic tee and trainers for a trendy, everyday outfit. You can also add a belt like Kerri has to accentuate your waist.
A midi skirt is a versatile and timeless fashion piece that adds a touch of grace and style to any wardrobe. Its unique design, comfortable length, and adaptability make it a must-have item for those looking to elevate their fashion game while maintaining comfort and functionality. Whether you're going for a classic or modern look, the pleated midi skirt is a fashion choice that stands the test of time.
Check out our daily videos for style tips.