Description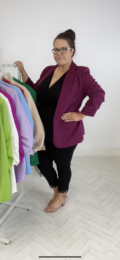 Details: blazer for women
Berry Ruched Sleeve Blazer
ruffle sleeves
open front
faux pockets
fully lined
95% polyester, 5% elastane
shop more blazers (click here)
Style No: blazer3
Further information:
A ladies' ruffle sleeve blazer is a stylish and elegant garment that combines the classic sophistication of a blazer with the feminine flair of ruffled sleeves. This unique fashion piece is designed to make a statement and elevate any outfit with its distinct features and tailored structure.
The blazer's body typically boasts a sleek and tailored silhouette, often featuring a single-breasted or double-breasted front closure. This design element not only accentuates the waistline but also exudes a professional and polished look. The blazer is usually made from polyester and elastane for comfort and durability.
The standout feature of this blazer is undoubtedly the ruffle sleeves. These sleeves add a touch of drama to the overall look.
The colour palette for a ladies' ruffle sleeve blazer is diverse, with options ranging from classic neutrals like black, navy, and white to vibrant and eye-catching hues such as red, royal blue, or emerald green.
Styling possibilities are endless with a ruffle sleeve blazer. It can be worn with tailored trousers for a professional look, paired with a pencil skirt for a chic office ensemble, or even dressed down with jeans for a more casual yet refined appearance. Accessories like statement earrings or a sleek belt can be added to personalize the outfit further.
A ladies' ruffle sleeve blazer is a versatile and fashionable wardrobe staple that effortlessly combines classic tailoring with feminine flair. Its distinctive ruffle sleeves make it a statement piece that can be worn for various occasions, allowing women to express their unique style while exuding confidence and sophistication. Whether for the office or a special event, this blazer is a go-to choice for those who want to make a lasting impression.
These blazers are a firm favourite with customers & staff of Michelle's Curvy Boutique.  Check out our daily facebook videos for style tips and new arrivals (click here).