Description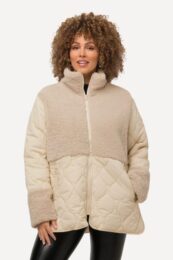 Details: quilted jacket womens
Ulla Popken Quilted Teddy Fleece Jacket
warm artificial down padding
stand-up collar
zipper closure
2 zip pockets
Mixed textures make this cozy pick a fast favourite
Shop more Ulla Popken (click here)

Fabric 100% polyamide lining 100% polyester Faux fur 100% polyester

Style No: 821213150
Further information:
A quilted teddy fleece jacket is the embodiment of cozy warmth and casual style. This versatile piece of outerwear seamlessly combines comfort and fashion, making it a must-have addition to your wardrobe.
The term "quilted" refers to the unique stitching pattern that covers the surface of the jacket. These quilted lines not only serve an aesthetic purpose but also help to trap warmth, making it an excellent choice for chilly weather. The stitching creates small pockets of insulation, ensuring that you stay snug and toasty even on the coldest of days.
The "teddy fleece" aspect of the jacket's name comes from the plush and fuzzy material used. It's reminiscent of a teddy bear's fur, providing an incredibly soft and comforting feel.
The jacket typically features a zip closure, allowing you to seal in the warmth when the temperatures drop.
One of the key selling points of a quilted teddy fleece jacket is its versatility. It can be effortlessly dressed up or down, making it suitable for various occasions. For a casual look, pair it with jeans and trainers for a day out running errands or enjoying a leisurely walk. If you want to elevate your style, wear it over a sweater or blouse with some fashionable boots for a cozy yet chic ensemble.
The colour palette for these jackets is wide-ranging, but earthy tones like beige, camel, or rich browns are popular choices, enhancing the cozy and inviting aesthetic.
A quilted teddy fleece jacket is more than just a piece of clothing; it's a warm, comforting embrace on a cold day and a stylish addition to any outfit. Its quilted exterior and teddy fleece  combine fashion and function, making it a beloved choice for those seeking warmth and style in one garment. Whether you're braving the winter chill or adding a cozy layer to your outfit, this jacket is the perfect choice.
Check out our daily videos on facebook for style tips and new arrivals (click here)