Description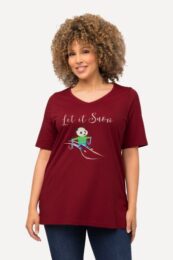 Details: plus size clothing
Ulla Popken Let It Snow Short Sleeve Panda T-shirt
v-neck
short sleeves
bring in the chillier weather with this playful graphic
100% cotton
shop more Christmas items (click here)
Style no: 824448540
Further information:
The Let It Snow short sleeve panda skiing burgundy t-shirt is a delightful and whimsical portrayal of wintertime fun and festive cheer. Constructed from a premium cotton blend, the t-shirt offers a soft and lightweight feel, ensuring both comfort and style for wearers as they embrace the joyful spirit of the season. The rich burgundy hue of the shirt serves as a warm and inviting backdrop, reminiscent of the cozy ambiance of a snow-covered evening.
At the heart of the t-shirt's design, an adorable panda adorned with a winter jumper glides effortlessly down snow-covered slopes on a pair of skis. The panda's exuberant expression radiates a sense of playfulness and joy, capturing the excitement and thrill of wintertime activities. Intricate embroidery work brings the panda to life, infusing the design with a sense of liveliness and animation that captures the imagination and brings a smile to the wearer's face.
The "Let It Snow" message, written in a playful and elegant font, adorns the top of the design, complementing the jovial scene with a heartfelt nod to the joys of wintertime festivities. The contrast between the rich burgundy fabric and the lively details of the skiing panda and snow-covered landscape creates a visually striking and endearing aesthetic, making the t-shirt a delightful choice for spreading holiday cheer and celebrating the magic of the season.
This t-shirt serves as a cherished addition to any festive wardrobe, perfect for embracing the spirit of the season during cozy evenings by the fire, joyful family gatherings, or spirited seasonal outings. Its whimsical design and festive charm encapsulate the essence of winter playfulness and holiday joy, ensuring wearers can celebrate the magic of the season in style and comfort.
Check out our daily videos on facebook.