Description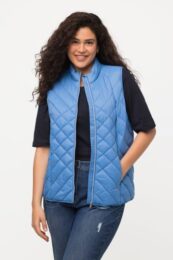 Details: womens padded gilet
Ulla Popken HYPRAR Water Repellent Quilted Gilet
stand-up collar
blue
sleeveless design
zipper closure
2 seam pockets with zippers
made from recycled material
100% recycled polyamide
Size-adjusted length approx. 26¾" – 30¾"
Cozy warm down padding and a water repellent finish make this a perfect addition to any chilly night
Style No: 818934726
Further information:
A short ladies' gilet is a stylish and practical sleeveless jacket designed specifically for women. This versatile outerwear piece combines fashion with functionality, offering a wide range of styling options and providing an extra layer of warmth without sacrificing freedom of movement.
These gilets are designed with shorter lengths, ending at the waist or hip. This shorter silhouette makes them perfect for layering over a variety of outfits and adding a touch of sophistication to your look. The short gilet's tailored design often features contoured seams that enhance your figure, providing a flattering and feminine shape.
Short ladies' gilets are constructed using various materials, with common choices including polyester, nylon, down, or fleece. Depending on the material and insulation, they can be suitable for different weather conditions. Down-filled gilets, for example, offer excellent insulation, making them ideal for chilly autumn or early spring days. Meanwhile, lightweight nylon or polyester options are great for milder weather and transitional seasons.
A front zipper closure is a feature of of this gilet, allowing for easy on-and-off and customizable ventilation.
Pockets are a practical aspect found on the front. These pockets serve the dual purpose of keeping your hands warm and providing storage space for small essentials like keys, a phone, or gloves.
One of the notable advantages of short gilets is their versatility. They can be paired with various outfits, whether it's worn over a lightweight sweater for a casual daytime look or layered under a heavier coat for added warmth on colder days. Their adaptability makes them suitable for a wide range of settings, from outdoor activities to indoor gatherings.
Check out our daily videos for style tips and inspiration.