Description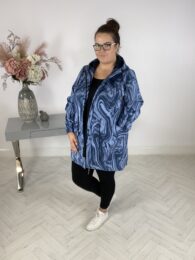 Details: womens coats
Ulla Popken HYPRAR Softshell Weather Resistant Jacket
water repellent, windproof, and breathable
fleece lined
adjustable hood
2-way zipper closure with chin guard
2 hand pockets with flap closure
Length approx. 33¾" – 35¾"
Artistic swirls decorate this water repellent windproof design
Style No: 821428130
Check out more jackets (click here)
Further information:
A soft shell weather-resistant jacket with a hood is a versatile and practical piece of outerwear designed to offer protection and comfort in various weather conditions. This detailed description will provide insights into its design, materials, and the benefits it brings to the wearer.
The jacket's design begins with its outer shell, typically crafted from a combination of advanced synthetic materials such as polyester, nylon, and elastane. This blend results in a soft, pliable, and stretchy fabric that offers excellent resistance to the elements while ensuring flexibility and comfort during wear. This unique combination makes it ideal for a wide range of outdoor activities.
The jacket features a hood that adds an extra layer of protection. This hood is adjustable with drawstrings, allowing for customization of fit and coverage. Whether you're caught in an unexpected rain shower or battling chilly winds, the hood can be easily pulled up to shield your head and face, providing essential protection and warmth.
What sets this jacket apart is its exceptional weather resistance. While it may not be completely waterproof like a raincoat, it is engineered to repel moisture, making it highly effective against light to moderate rain, snow, and wind. The fabric's durable water repellent (DWR) finish ensures that water beads up and rolls off, keeping you dry and comfortable.
The soft shell material offers a fine balance between insulation and breathability. It provides warmth without the bulkiness often associated with traditional winter coats, making it perfect for transitional seasons like spring and fall. Furthermore, the jacket's inner lining is typically designed with moisture-wicking properties, efficiently managing perspiration to keep you dry during physical activities.
Versatility is another standout feature of this jacket. Its sleek design and weather-resistant properties make it suitable for a wide range of activities and settings. Whether you're going hiking in unpredictable weather, commuting to work, or simply enjoying a casual stroll in the city, this jacket is adaptable and reliable.
We do daily facebook videos (click here)