Description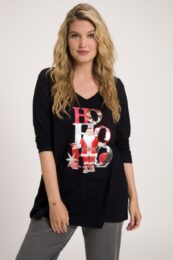 Details: plus size clothing
Ulla Popken HO HO HO Sequin Accent A-line Fit Top
V-neck
front sequin accent print
long sleeves
a-line fit
100% cotton
shop curvy trousers (click here)
Style No: 811347100
Further information:
The Christmas top, adorned with a playful "Ho Ho Ho" graphic and intricate sequin detailing, is a dazzling embodiment of festive cheer and holiday spirit. Crafted from a luxurious blend of soft cotton and lightweight, breathable polyester, it promises a comfortable and stylish fit, perfect for celebrating the season in absolute comfort and glamour.
The top features a classic v-neckline, delicately framing the collarbone and offering a flattering silhouette for wearers of all shapes and sizes. Its long sleeves provide a touch of warmth during chilly winter evenings, while also showcasing the meticulously crafted design, ensuring that every movement catches the light and draws the eye to the shimmering detail.
Against a backdrop of black the top proudly displays a jovial "Ho Ho Ho" graphic, playfully rendered in a mix of bold and swirling fonts that exude the merriment of the holiday season. The letters are delicately outlined with iridescent sequins, creating a dazzling effect as they catch and reflect the warm glow of festive lights and flickering candles.
Perfect for office parties, intimate family gatherings, or joyful outings with friends, this Christmas top with its "Ho Ho Ho" graphic and intricately detailed sequins serves as an exquisite ode to the holiday season. Its captivating design captures the spirit of joy and celebration, making it an essential piece for anyone looking to embrace the festive magic of Christmas with style and grace.
100% cotton is the ideal fabric for a breathable Christmas top giving you the option to wear something a bit more comfortable to wear over the festive period.
Check out our daily videos on facebook for style tips, sizing guides and new arrivals.