Description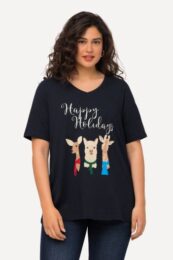 Details: plus size clothing
Ulla Popken Happy Holidays Graphic T-shirt
v-neck
short sleeves
a playful graphic to spread holiday cheer wherever you go
100% cotton
Shop more Christmas items (click here)
Style No: 824451130
Further information:
The navy "Happy Holidays" graphic t-shirt is a delightful embodiment of festive cheer and warm seasonal wishes. Constructed from a high-quality, lightweight cotton blend, the t-shirt offers a soft and breathable feel, ensuring maximum comfort for wearers as they embrace the joyous spirit of the holidays. The classic crew neckline and relaxed fit provide a casual yet stylish silhouette, making it a versatile option for various celebratory gatherings and festive occasions.
Against the rich navy backdrop, the "Happy Holidays" graphic takes center stage, exuding a sense of joviality and goodwill.  The delicate curves and intricate details of the typography evoke a sense of merriment and warmth, reflecting the heartfelt sentiments shared during this special time of the year.  The added animal graphic give a different theme to Christmas and catches the eye to the happy characters taking centre stage.
The versatile navy hue serves as an ideal backdrop, allowing the white details to stand out with a radiant luminosity. Perfect for spreading holiday cheer and well-wishes, this "Happy Holidays" graphic t-shirt serves as a timeless and heartfelt expression of joy and camaraderie, making it a beloved addition to any festive wardrobe. Its understated yet spirited design makes it suitable for a variety of settings, from casual gatherings with loved ones to spirited office celebrations, ensuring that wearers can embrace the magic of the season in comfort and style.
This top would be perfect with jeans or curvy trousers, matched with one of our ruched sleeve blazers for a dressy look.
Check out our daily videos on facebook for new festive arrivals, sizing guides and much more.