Description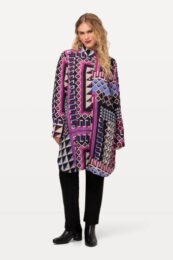 Details: plus size clothing
Ulla Popken Geometric Patch Print Long Sleeve Tunic Blouse
stand-up collar
long sleeves with cuffs
side slits for comfort
a colorful pick with an elegant stand-up collar, the perfect statement piece
100% viscose
shop leggings and trousers (click here)
style no: 821181830
Further information:
The ladies' 100% viscose geometric patch print plum tunic blouse is a stylish and versatile garment that combines comfort, unique design, and rich color to create a standout addition to any woman's wardrobe. This tunic blouse offers a myriad of features and benefits that make it a trendy and fashionable choice.
Made from 100% viscose, this tunic blouse is known for its lightweight, soft, and flowing texture. Viscose fabric drapes elegantly, giving the blouse a relaxed yet chic look. The rich plum color adds a touch of sophistication, making it suitable for a variety of occasions, from casual outings to more formal events.
The geometric patch print design on this blouse is a striking feature. The intricate patterns, in contrasting colours, create a unique visual appeal that catches the eye. Geometric designs are a timeless choice, and they add a contemporary and artistic touch to the tunic, making it suitable for fashion-forward individuals.
The tunic length of this blouse provides ample coverage, typically reaching mid-thigh or knee length, depending on the style. This elongated silhouette offers comfort and can be worn as a standalone top or paired with leggings or jeans for a complete outfit. The length also contributes to a flattering fit, making it suitable for a range of body types.
The softness and breathability of viscose fabric ensure all-day comfort. Viscose is known for its moisture-wicking properties, making it suitable for different weather conditions. The tunic blouse can be worn in warmer months, thanks to its lightweight nature, as well as layered under jackets or cardigans for added warmth during colder seasons.
The plum tunic blouse is versatile and can be dressed up or down. Pair it with heels and statement jewelry for a more formal look, or keep it casual with flats or sandals. Whether you're heading to the office, a dinner date, or a weekend brunch, this blouse can adapt to your styling needs.
Check out our daily videos on facebook for style tips, new arrivals and style tips.