Description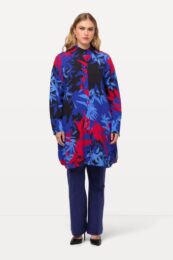 Details: plus size womens clothing
Ulla Popken Floral Long Sleeve Button Down Tunic Blouse
stand-up collar
full-length button placket
long sleeves with cuffs
side slits for comfort
100% viscose
Shop curvy trousers (click here)
Style No: 821556750
a boundary-pushing blend of playful colors and elegant polish, this tunic is perfect on its own or as part of a layered look
Further information:
The blue and red Floral Long Sleeve Button Down Tunic Blouse is a striking and captivating piece that blends vibrant colors with timeless style. This blouse is a perfect example of how fashion can be both bold and elegant, making it a versatile addition to any wardrobe.
Crafted from a lightweight and breathable fabric, this tunic blouse ensures comfort throughout the day while offering a relaxed and flattering fit. The long sleeves provide essential coverage, making it suitable for multiple seasons and various occasions. Whether you're dressing up for work, a brunch date, or a casual weekend outing, this blouse will have you looking chic and feeling comfortable.
The blouse features a unique combination of colours, with red and blue boldly clashing to create a visually stunning effect. The vibrant red hues convey energy and confidence, while the deep blues offer a sense of depth and sophistication. The contrast between these two primary colorus results in a captivating and eye-catching pattern, making this blouse a true statement piece.
The button-down front of the blouse adds a touch of classic charm to the design. It allows for versatile styling options, whether you choose to wear it fully buttoned for a polished look or leave a few buttons undone for a more casual and relaxed appearance. The tunic length is universally flattering, providing coverage while allowing for freedom of movement.
The floral print on the blouse adds an extra layer of elegance and femininity to the overall design. The intricate pattern features a variety of flowers and leaves, creating a harmonious blend of nature-inspired beauty with the bold color clash.
This tunic blouse pairs effortlessly with a range of bottoms, including jeans, leggings, or skirts, making it a versatile choice for various occasions. Whether you're accessorizing with a statement belt or layering it under a blazer, this blouse will adapt to your style preferences.
Check out our daily videos on facebook for style tips, new arrivals and sizing.