Description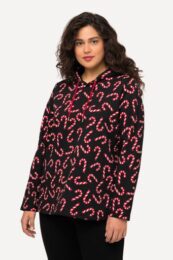 Details: plus size clothing
Ulla Popken Festive Holiday Long Sleeve Hoodie
attached hood with tie
long sleeves
side slits for comfort

80% cotton, 20% polyester

shop more festive clothing (click here)
Style no: 824402100
Further information:
The festive holiday long sleeve candy cane detail black hoodie is a delightful and spirited garment that encapsulates the joy and cheer of the holiday season. This unique and playful hoodie, designed to infuse warmth and merriment into the wearer's wardrobe, boasts a perfect fusion of comfort and celebratory style.
The classic black hue of the hoodie serves as an elegant backdrop, allowing the vibrant candy cane detailing to take center stage. The meticulously crafted candy cane accents, delicately integrated into the design, evoke a sense of nostalgia and evoke the joyous memories associated with the holiday festivities. The candy cane details add a touch of whimsy and playfulness, creating a striking contrast against the sophisticated black backdrop.
The long sleeves of the hoodie provide added warmth and comfort, making it an ideal choice for cooler temperatures and winter gatherings. The hoodie's extended length ensures optimal coverage, offering a cozy and snug fit that is perfect for lounging indoors or enjoying outdoor activities during the festive season.
Crafted from high-quality, soft materials, the hoodie ensures a luxurious and comfortable wearing experience. The soft and plush fabric provides a gentle embrace, making the hoodie an inviting and cozy essential for festive gatherings, family reunions, or casual holiday outings.
The festive holiday long sleeve candy cane detail black hoodie serves as a versatile and stylish option for various occasions, allowing individuals to showcase their holiday spirit while staying effortlessly chic and comfortable. Whether worn as a statement piece for a casual holiday gathering or as a cozy layer for a winter evening by the fireplace, this hoodie effortlessly combines festive charm with practical comfort, making it an essential addition to any wardrobe during the holiday season.
Check out our daily videos on facebook for more Christmas festive clothing.