Description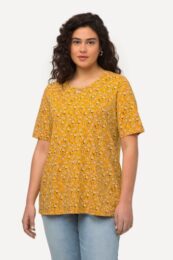 Details: plus size tops for women
Ulla Popken Yellow Ditsy Floral Short Sleeve V-Neck Top
v-neck with crossed strap details
short sleeves
comfortable a-line cut
100% cotton
Tiny autumn-colored flowers add color to this classic v-neck pick
Shop jeans (click here)
Style no: 824078610
Further information:
A short sleeve V-neck cotton floral top is a charming and versatile piece of clothing that seamlessly blends comfort, style, and femininity. Crafted from soft and breathable cotton fabric, this top is designed to keep you cool and comfortable throughout the day, making it an ideal choice for warm weather or casual occasions.
The V-neck neckline adds a touch of elegance to the top, creating a flattering and elongating effect that enhances your neckline and collarbone. It's a classic design choice that strikes a balance between casual and slightly dressy, allowing you to easily transition from a relaxed day out to a more formal evening gathering.
The defining feature of this top is its floral pattern. Delicate and dainty, the floral print adds a dash of charm and whimsy to your outfit.
With short sleeves, this top offers a comfortable and breathable option for those sunny days when you want to stay cool without sacrificing style. The sleeves provide just the right amount of coverage, making it suitable for various occasions and easy to layer with a cardigan or jacket when the weather cools down.
Its cotton construction not only ensures comfort but also durability, as cotton is known for its ability to withstand repeated washes and maintain its shape and color over time. This means that your floral top can become a long-lasting addition to your wardrobe, offering timeless style and comfort.
In summary, a short sleeve V-neck cotton floral top is a delightful fashion choice that combines the softness of cotton, the elegance of a V-neck neckline, and the charm of floral patterns. It's perfect for creating a fresh and feminine look that is both comfortable and versatile, making it a go-to option for various occasions throughout the year.
Check out our
daily videos
on facebook for style tips and new arrivals.