Description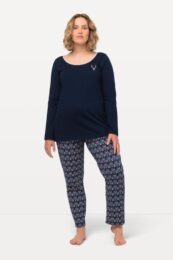 Details: plus size clothing
Ulla Popken Deer Print Long Sleeve Two Piece Pajama Set
long sleeve tee with small deer logo on chest
contrast color piping
allover printed pants with elastic waistband
side pockets
100% cotton
shop more nightwear (click here)
Style no: 821032139
Further information:
Experience the epitome of comfort and style with our exquisite 100% cotton long sleeve top and pants pajama set, featuring an enchanting deer print. Crafted with the finest cotton, our pajama set is a testament to luxury and relaxation, designed to offer you a peaceful night's rest.
The long-sleeved top is tailored for optimal coziness, ensuring a snug fit without compromising on breathability. Its soft, gentle fabric gracefully drapes over your body, providing a soothing touch against your skin. The round neckline offers a classic silhouette, complemented by the elegantly cuffed sleeves that add a touch of sophistication to your bedtime attire. The gentle elasticity of the fabric ensures unrestricted movement, allowing you to unwind effortlessly.
Paired with the top, our matching pants complete the ensemble, enveloping your legs in the same premium cotton. The pants are expertly designed with an elastic waistband, providing a customized and comfortable fit for various body types. Their relaxed silhouette allows for unrestricted movement, making them the perfect choice for lounging around the house or curling up with a good book before bedtime. The ankle cuffs are delicately tailored to ensure a secure yet non-restrictive fit, giving you the freedom to move with ease.
The captivating deer print, meticulously crafted with intricate detail, lends a touch of whimsy and elegance to the ensemble. Its subtle yet enchanting design evokes a sense of tranquility and natural beauty, inviting you to embrace the serenity of the forest within the comfort of your own home. The muted hues of the print blend harmoniously with the gentle cotton fabric, creating a seamless fusion of style and comfort.
Indulge in the luxurious embrace of our 100% cotton long sleeve top and pants pajama set, adorned with a captivating deer print. Elevate your nighttime routine with this exquisite ensemble that seamlessly combines comfort, style, and a touch of natural charm.
Check out our daily videos on facebook for style tips, sizing and new arrivals.