Description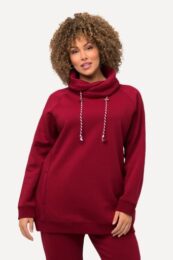 Details: sweatshirt for women
Ulla Popken Cowl Neck Sweatshirt
adjustable drawstring stand-up collar
sporty raglan long sleeves
side seam pockets
ribbed trim sleeves and hem
soft cotton blend knit

50% polyester, 50% cotton

style no: 713963541
Further Information:
A sweatshirt is a stylish and functional piece of clothing that combines comfort with practicality. This type of sweatshirt is designed to provide both warmth and versatility while adding distinctive details to your outfit.
The drawstring collar is a unique feature of this sweatshirt. It typically consists of a cord threaded through a small opening at the neckline. This allows you to adjust the tightness of the collar to your preference, providing additional warmth and protection against the elements when needed. When cinched, it creates a cozy cowl-neck effect, making it perfect for keeping your neck warm on chilly days. When left loose, it adds a relaxed and casual touch to the sweatshirt's design.
The front pockets are another standout feature of this sweatshirt. They are located on either side of the lower front portion, just above the waistband. These pockets are not only practical for keeping your hands warm but also serve as convenient storage for small items like keys, phones, or accessories.
This sweatshirt is from soft and cozy materials 50% polyester, 50% cotton. The interior lining is brushed for added comfort and warmth. The cuffs and waistband are ribbed to provide a snug fit and keep the cold out.
The versatility of a sweatshirt with a drawstring collar and front pockets is a key selling point. You can wear it in various settings, from casual outings to more relaxed work environments. Pair it with jeans and runners for a laid-back look, or dress it up with slacks and boots for a more polished appearance. The drawstring collar adds an element of uniqueness, allowing you to experiment with different necklines and styles.
Check out our daily videos for some inspiration.