Description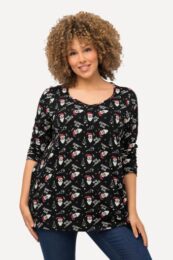 Details: plus size clothing
Ulla Popken Cool Santa Pleat Front A-line Fit Top
V-neck
front pleats
long sleeves
a-line fit
allover print
100% cotton
Shop jeans (click here)
Style no: 811511100
Further information:
The 100% Cotton Santa Graphic Pleat Front A-line Fit Black Top is a charming and comfortable garment that encapsulates the festive spirit of the holiday season. Crafted entirely from high-quality cotton, this top seamlessly combines a classic fabric with a playful and nostalgic Santa graphic, making it a delightful addition to any wardrobe during the holiday period.
The classic black colour of the top serves as an elegant and versatile backdrop, allowing the vibrant Santa graphic to take center stage and infuse the garment with a sense of festive cheer. The meticulously crafted Santa graphic, adorning the front of the top, features intricate details and lively colors, capturing the whimsy and joy associated with the holiday season. This playful depiction of Santa Claus adds a touch of nostalgia and merriment, making the top a perfect choice for spreading holiday cheer.
The pleat front and A-line fit design offer a flattering and comfortable silhouette that drapes elegantly and flares gently from the bust. The pleats add a touch of sophistication and texture to the top, enhancing its visual appeal and providing a refined yet playful dimension to the overall design. The A-line fit ensures a relaxed and comfortable wearing experience, allowing for easy movement and versatility for various body shapes.
Crafted from 100% high-quality cotton, the top provides a soft and breathable texture, ensuring optimal comfort and a cozy feel throughout the day. The natural fabric properties of cotton make the top suitable for all-day wear, allowing the skin to breathe and providing a comfortable layer for both indoor and outdoor holiday festivities.
The 100% Cotton Santa Graphic Pleat Front A-line Fit Black Top is a versatile and charming piece that effortlessly captures the festive essence of the holiday season. Whether paired with leggings for a casual yet cheerful look or styled with a skirt for a more dressed-up ensemble, this top is an essential addition for individuals looking to embrace the holiday spirit with style and comfort.
Check our our daily videos on facebook.