Description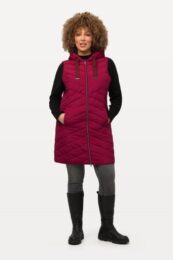 Details: gilet womens
Ulla Popken Carmine Red HYPRAR Quilted Gilet

water repellent
high-quality taffeta lining
sleeveless design
practical two-way zipper
2 side pockets at dividing seam
Comfortably warm, and water repellent to keep you dry as the weather gets colder

lining 100% polyamide Fabric 100% polyamide

Style No: 819040132
Further information:
A midi-length quilted gilet is a versatile and stylish garment that seamlessly blends fashion with functionality. This timeless piece of outerwear has become a staple in many wardrobes, offering a perfect balance between warmth, comfort, and aesthetics. Let's delve into the details of this remarkable garment.
At its core, a midi-length quilted gilet is designed to provide an extra layer of insulation and protection against the elements while allowing for ease of movement. The term "midi-length" signifies that this gilet typically falls to a length somewhere between the hips and the knees, providing ample coverage to keep the upper body warm without hindering mobility.
The defining feature of this gilet is its quilted construction. Quilting involves stitching two layers of fabric together with a layer of padding in between. This not only creates a visually appealing diamond or horizontal pattern on the fabric but also traps air within the quilted pockets, acting as natural insulation to keep the wearer cozy in cooler temperatures.
The versatility of a midi-length quilted gilet is one of its standout qualities. It can be worn over a variety of outfits, including sweaters, long-sleeved shirts, or even lightweight jackets, making it suitable for different seasons. Whether paired with jeans for a casual look or worn over a dress for a more refined ensemble, this gilet adds a layer of style and warmth to any outfit.
Gilets are a very popular choice of jacket for many women, whether its for the school run, going for Autumn walks or just as an extra layer to keep warm when out an about.
Check out more options (click here)