Description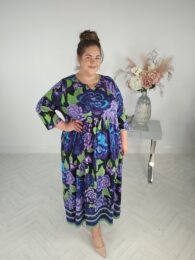 Details: dresses for women
Ulla Popken Border Print Empire Waist Dress
split neckline
ruffled empire waistline
3/4 sleeves
side seam pockets
Colorful florals will keep the warmth of springtime fresh in your mind all winter long
100% cotton
Shop more dresses (click here)
Style No: 824425844
Further information:
This floral ladies dress is a timeless and elegant garment that seamlessly combines classic style with a touch of modernity. This dress is a masterpiece of design, carefully crafted to flatter the feminine silhouette while offering comfort and grace.
At its core, the dress features an empire waistline, a design element that has been in vogue since the early 19th century. The empire waist is characterized by a high waistline that sits just below the bust, creating a flattering A-line silhouette that elongates the body and accentuates the waist. This design choice makes the dress universally flattering, as it draws attention to the slimmest part of a woman's body while providing ample room for comfort and movement.
The long sleeves of this dress add an air of sophistication and versatility. These sleeves are tailored to perfection, providing both coverage and a sense of modesty, making it suitable for various occasions, from a formal evening event to a daytime party.
The standout feature of this dress is its enchanting floral pattern. The fabric is adorned with a delicate array of blossoms, showcasing a symphony of colours, including soft pastels and vibrant hues. The floral motif evokes a sense of natural beauty and charm, making the wearer feel like she's walking through a blooming garden. The attention to detail in the floral print is remarkable, with each petal and leaf meticulously rendered, adding depth and texture to the overall design.
The dress is typically made from a high-quality, breathable fabric like cotton, ensuring both comfort and style. It drapes elegantly and moves gracefully with the body, enhancing the wearer's every step.
Check out our daily videos on facebook for style tips and new arrivals. (click here)