Description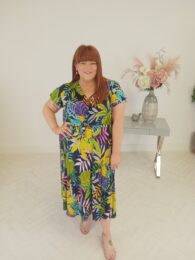 Details: dresses for women
Tropical Print Slinky Shelly Dress
short sleeves
tie belt included
faux wrap
print all over
95% polyester, 5% elastane
shop more dresses (click here)
Further information:
The ladies' tropical print midi dress is a vibrant and stylish garment designed to transport you to an exotic paradise, even when you're just stepping out in your everyday life. This dress embodies the spirit of summer with its colorful and playful tropical print, making it a must-have for warm-weather fashion.
The standout feature of this midi dress is its eye-catching tropical print. The print typically includes lush palm leaves, vibrant flowers, and exotic fruits, all set against a background that mimics the hues of a tropical sunset. These intricate patterns evoke a sense of wanderlust and adventure, bringing a taste of the tropics to your wardrobe.
The midi length of the dress is another notable attribute. Falling below the knee but above the ankle, it strikes a perfect balance between comfort and elegance. This length is incredibly versatile, suitable for various occasions, from casual daytime outings to semi-formal evening gatherings.
The ladies' tropical print midi dress often comes in a variety of silhouettes and styles to cater to different tastes and body types.
The fabric used for this dress is usually lightweight and breathable, such as cotton, rayon, or a blend of natural and synthetic fibers. This choice ensures comfort, even on the hottest of days, as the dress allows your skin to breathe and stay cool.
The ladies' tropical print midi dress is a versatile addition to your summer wardrobe. You can pair it with sandals for a casual look or dress it up with wedges or heels for a more refined ensemble. Add some statement jewelry and a denim jacket to complete the tropical-inspired outfit.
Check out our daily videos on facebook for style tips and new arrivals (click here)