Description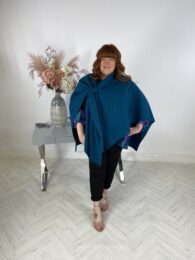 Details: plus size clothing
Teal Closed Front Poncho
free size 18-30
option to leave open or closed
100% viscose
shop blouses (click here)
Style no: poncho1
Further information:
Picture yourself wrapped in an exquisite piece of fashion artistry – a 100% viscose teal poncho that effortlessly marries comfort with elegance. This optional closed front poncho is a testament to refined style, its teal hue reminiscent of tranquil waters on a serene day, invoking a sense of calm and sophistication.
The luxurious fabric, composed entirely of viscose, adds a touch of opulence to this poncho. Known for its smooth and silky texture, viscose drapes with an ethereal quality, providing an indulgent feel against the skin. The teal colour further enhances the fabric's luster, creating an alluring sheen that captures and reflects light, making the poncho an instant eye-catcher.
The closed front design offers versatility in styling, allowing you to wear it as a chic outer layer, seamlessly integrating into your wardrobe as an elegant statement piece. The optional closure adds a dynamic element, enabling you to adapt your look to the occasion. Whether you prefer a casually draped front or a neatly fastened closure, this poncho accommodates your style preferences with grace.
The teal hue chosen for this poncho is a nod to sophistication and versatility. Teal is a color that effortlessly transitions from season to season, offering a timeless appeal. Its rich, deep tones convey a sense of refinement, making this poncho suitable for a spectrum of occasions, from casual outings to more formal affairs.
The loose, flowing silhouette of the poncho adds an element of ease and comfort. The garment generously drapes over the body, providing both warmth and freedom of movement. The relaxed fit allows for easy layering, making it a versatile piece that complements various outfits, be it over a sleek dress or paired with your favorite jeans.
In essence, this 100% viscose teal optional closed front poncho is a fusion of comfort, style, and versatility. It beckons you to embrace its luxurious texture, savour the calming teal tones, and revel in the freedom of expression it offers. A wardrobe essential that transcends trends, this poncho is an ode to timeless elegance and modern sensibility.
Check out our daily videos on facebook.