Description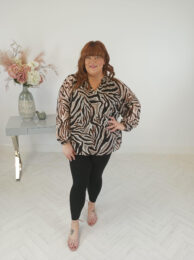 Details: v neck tops for women
Only Carmakoma V-neck Blouse
v-neck
elastic cuffs
perfect with our black leggings
chiffon layer
lined
animal print
65% Polyester, 35% Viscose
Style No: 15308096
Further information:
A V-neck animal print blouse is a stylish garment that combines two popular fashion elements: the V-neck design and an animal print pattern.
A defining feature of this blouse is its V-shaped neckline. The V-neck is a flattering and classic neckline style that plunges down the front of the blouse, creating a visually elongating effect on the neck and chest area.
The animal print pattern on this blouse adds a bold and exotic element to its design. Common animal prints include leopard, cheetah, zebra, and snake skin patterns, and they are often characterized by their distinctive spots, stripes, or scales. Animal prints are known for their timeless appeal. These prints are typically rendered in contrasting colors, with neutral tones like browns, blacks, and creams being common choices.
Blouses are often made from lightweight and breathable materials like chiffon, silk, or polyester. These fabrics not only feel comfortable against the skin but also enhance the drape and movement of the blouse.
A V-neck animal print blouse is a versatile piece of clothing that can be dressed up or down. It pairs well with a variety of bottom options, including jeans, trousers, soft cotton leggings & wed look leggings. You can wear it casually for a day out with friends or dress it up with tailored pants and heels for a more formal look.
Overall, a V-neck animal print blouse is a fashion-forward choice for those who want to make a bold statement with their attire. It combines the elegance of the V-neck with the eye-catching appeal of animal prints, creating a stylish and captivating garment that's sure to turn heads and elevate your fashion game.