Description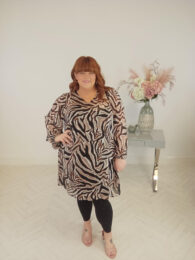 Details:tunic dress for women
Only Carmakoma Tunic Dress
V neck
Perfect with our basic leggings
Animal print
elastic at cuff
tunic length
65% polyester 35% viscose
Style no: 15308104
Further Information:
A tunic dress is a versatile and timeless piece of clothing that effortlessly combines style and comfort. This elegant and relaxed garment is loose-fitting design, which typically falls just above or below the knee. It features a simple and straight silhouette that flatters a wide range of body types, making it a popular choice for women of all ages and sizes.
One of the defining features of a tunic dress is its loose and flowy shape. It often has a relaxed fit with minimal tailoring, allowing for freedom of movement and ease of wear.
The neckline of a tunic dress is V-neck. This tunic features a decorative gold thread going through the fabric.
The versatility of a tunic dress is one of its standout qualities. It can be worn as a standalone outfit or paired with leggings, tights, or skinny jeans for added coverage and a layered look. Accessories like belts, scarves, or statement jewelry can be incorporated to elevate the ensemble further.
Tunic dresses are suitable for a wide range of occasions, from casual outings to more formal events. Depending on the fabric and design, they can be dressed up or down effortlessly. They are equally at home on the beach, at a summer picnic, in the office, or at a dinner party.
A tunic dress is a wardrobe staple that offers comfort, style, and versatility. Its loose and relaxed fit, various fabric options, and adaptability to different occasions make it a must-have clothing item for any fashion-conscious individual. Whether you're looking for a laid-back and chic outfit or a sophisticated and comfortable ensemble, a tunic dress is a go-to choice that transcends seasons and trends.