Description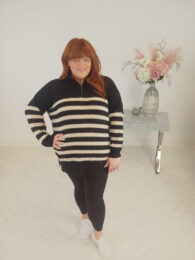 Details: women's black and white striped jumper
Only Carmakoma Stripe Jumper
zip high neck
oversized
long sleeves
81% acrylic & 19% polyester
style no: 15296591
Further information:
A jumper is a versatile and comfortable piece of attire designed to keep individuals warm in colder weather. Commonly known as a sweater in some regions, a jumper typically features a long-sleeved, pullover design made from various materials such as wool, cotton, or synthetic fibers. Its primary purpose is to provide insulation and maintain body heat, making it a wardrobe essential during the fall and winter seasons.
The design of a jumper can vary widely, allowing for a range of styles to suit different preferences and occasions. They come in various necklines, including crew neck, V-neck, turtleneck, and boat neck, each contributing to the overall aesthetic and level of warmth. A classic crew neck jumper, for instance, has a round neckline that sits comfortably on the collarbone, while a turtleneck extends upward to cover the neck and provide extra protection from the cold.
Jumper materials play a crucial role in their functionality and comfort. Wool jumpers are known for their excellent insulation properties, keeping the wearer cozy even in frigid temperatures. Cotton jumpers, on the other hand, are breathable and suitable for milder climates. Additionally, synthetic fibers like acrylic are often blended with natural materials to enhance durability and reduce maintenance.
Jumper styles range from simple and casual to elegant and formal. Chunky knit jumpers are ideal for a relaxed, cozy look, while finer knits can be dressed up for more formal occasions. The versatility of jumpers is further demonstrated through their compatibility with various outfits. They can be worn over a collared shirt for a preppy appearance, paired with jeans or slacks for a casual ensemble, or layered under a blazer for a sophisticated twist.
In summary, a jumper is an essential piece of clothing designed for warmth and comfort. Its diverse styles and materials cater to a wide range of preferences and occasions, making it a staple in many wardrobes. Whether for a chilly autumn evening or a frosty winter's day, a jumper offers both style and functionality to keep individuals snug and stylish.
Check out our daily videos on facebook (click here)