Description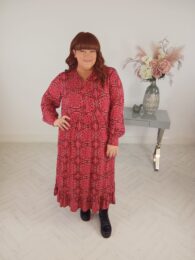 Details: plus size clothing
Only Carmakoma Poppy Red Maxi Dress
China Collar
Long sleeves
Sweeping maxi silhouette
Regular Fit
100% viscose
shop shape wear (click here)
Style no: 15306087
Further information:
The ladies' long-sleeve poppy red maxi dress, crafted from 100% viscose, is a stunning and versatile piece that seamlessly combines elegance with comfort. This dress exudes a sense of timeless sophistication, making it a perfect choice for various occasions, from formal events to casual outings.
The use of 100% viscose fabric ensures a luxurious and soft texture, offering a silky and smooth feel against the skin. Viscose is renowned for its drape and flow, allowing the dress to gracefully accentuate the body's natural curves while providing a lightweight and breathable fit. The fabric's natural sheen adds a touch of glamour to the overall appearance, enhancing the dress's allure.
The vibrant and bold poppy red hue exudes confidence and energy, making a striking fashion statement. This eye-catching color choice is sure to turn heads and create a memorable impression, adding a touch of glamour and excitement to any event or gathering.
The long-sleeve design of the dress adds an element of sophistication and warmth, making it suitable for cooler seasons or evening occasions. The maxi length typically flows gracefully to the ankles or floor, creating an elongated and elegant silhouette. The flowing nature of the dress allows for freedom of movement, ensuring comfort without compromising style.
Viscose fabric is known for its breathability and comfort, making it an ideal choice for all-day wear. The dress allows air to circulate, preventing overheating and ensuring a cool and comfortable experience, even in warmer weather. The lightweight and soft texture of the fabric contribute to a relaxed and pleasant wearing experience.
Check out our daily videos on facebook for style tip, sizing and new arrivals