Description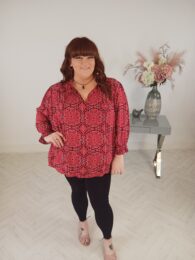 Details: plus size clothing
Only Carmakoma Poppy Red Blouse
long sleeves with frill cuff
v-neck with optional tie detail
100% viscose
shop curvy trousers (click here)
Style no: 15306107
Further information:
The 100% viscose poppy red blouse with frill cuffs and a V-neck is a stunning piece of apparel that exudes a perfect blend of vibrancy and elegance. Crafted from premium quality viscose fabric, this blouse showcases a rich poppy red hue, radiating a bold and captivating aura that effortlessly commands attention and imbues the wearer with confidence and sophistication.
The V-neck design of the blouse accentuates the neckline, offering a subtle yet alluring touch that beautifully frames the collarbone and adds a touch of femininity to the overall silhouette. This flattering neckline style is versatile and complements various body shapes, making it an ideal choice for both formal and casual occasions.
The exquisite frill cuffs add a whimsical and playful element to the blouse, infusing a sense of graceful movement and refinement into the design. The delicate frills gently cascade down the wrists, lending a subtle and charming detail that elevates the blouse's overall aesthetic appeal. This intricate detail not only adds a touch of sophistication but also offers a unique and eye-catching feature that sets this blouse apart from conventional designs.
Furthermore, the 100% viscose composition ensures a luxurious and soft-to-touch feel, providing optimal comfort and breathability for the wearer. The lightweight nature of the fabric allows for easy movement, making it an excellent choice for both daytime and evening wear, offering comfort without compromising on style or elegance.
The striking poppy red colour of the blouse makes a bold fashion statement, exuding confidence and a sense of empowerment. This vibrant shade effortlessly complements various skin tones, making it a versatile and universally flattering wardrobe essential. Whether paired with tailored trousers for a professional look or with jeans for a more casual ensemble, the 100% viscose poppy red blouse with frill cuffs and a V-neck is a timeless and sophisticated addition to any fashion-forward wardrobe.
Check out our daily videos on facebook for style tips, sizing guides and new arrivals.