Description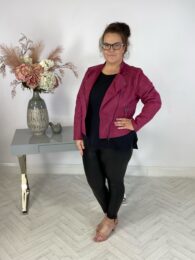 Details: biker jacket
Only Carmakoma Pink Biker Jacket
Collar with press buttons
Leather look
Zip on pockets and sleeves
85% polyester, 15% cotton
Style No: 15305945
Further information:
A faux leather biker jacket is a bold and stylish fashion statement that combines edginess with a vibrant burst of colour. This jacket is a standout piece in any wardrobe, offering a contemporary twist on a classic design.
The colour cerise pink is a bright and eye-catching shade. It exudes energy, confidence, and a sense of fun. When applied to a faux leather biker jacket, it adds a dynamic element to the traditionally rugged and rebellious silhouette.
Faux leather, also known as vegan leather, replicates the look and texture of genuine leather while being cruelty-free and more sustainable. It offers a sleek and polished appearance, making it a suitable material for a biker jacket. The cerise pink faux leather used in this jacket creates a captivating blend of the fierce and the feminine.
The biker jacket's design is characterized by its asymmetrical front zipper, notched lapels, and multiple zipped pockets, typically found on the chest and sides. These details add a touch of ruggedness and attitude to the jacket. The cerise pink color softens the biker aesthetic, offering a juxtaposition of toughness and playfulness.
The versatility of this jacket allows it to be styled in various ways. Pair it with black skinny jeans and ankle boots for a classic biker chic look, or layer it over a floral dress to create a fashion-forward contrast between edgy and feminine. The cerise pink color can be the focal point of your outfit or serve as a vibrant accent piece, depending on your styling choices.
A cerise pink faux leather biker jacket is a statement piece that demands attention.
We also have a faux leather biker jacket in black.