Description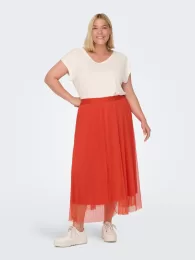 Details: chiffon maxi skirt
Only Carmakoma Orange Maxi Skirt
Skirt
100% Polyester
Style No: 15302986
Further Information:
An orange maxi skirt is a vibrant and striking piece of clothing that effortlessly combines style and comfort, making it a versatile addition to any fashion-conscious wardrobe. This skirt is a celebration of color and design, offering a sense of warmth and energy.
The colour orange is bold and attention-grabbing.
A maxi skirt is characterized by its longer-length design, flowing gracefully to the ankles. This length adds an element of elegance and drama to your ensemble. The fabric used for this orange maxi skirt is chiffon layered, offering a unique texture and drape.
The versatility of an orange maxi skirt allows it to be styled in numerous ways for various occasions. For a casual daytime look, pair it with a white tank top and sandals, creating a relaxed and breezy outfit perfect for summer strolls. Transition to an evening look by pairing it with a fitted blouse and heels, adding sophistication to your ensemble. To add a touch of bohemian flair, accessorize with a hat and chunky jewelry.
The vibrant color of the orange maxi skirt can be the focal point of your outfit or complemented by other warm and earthy tones for a harmonious colour palette. Experiment with different tops, belts, and accessories to create a style that matches your personality and the occasion.
A maxi skirt is a bold and versatile fashion piece that radiates warmth and energy. Its striking color and flowing design make it a statement piece that can be dressed up or down to suit a variety of occasions. Whether you're looking to add a burst of colour to your casual wardrobe or make a striking entrance at a special event, the orange maxi skirt is a fashionable choice that offers endless possibilities for creative styling.