Description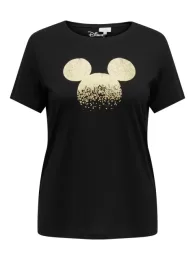 Details: plus size clothing
Only Carmakoma Mickey Mouse Glitter Logo T-shirt
o-neck
organic cotton
short sleeves
shop more Christmas items (click here)
Style no: 15313390
Further information:
The Mickey Mouse Gold Glitter Logo Black T-shirt is a stylish and sophisticated celebration of the iconic Disney character, exuding a timeless charm and a touch of festive glamour. Crafted from a high-quality cotton blend, the t-shirt offers a soft and comfortable feel, ensuring wearers can embrace the magic of Disney with both style and ease. The classic black backdrop serves as the perfect canvas to showcase the shimmering gold glitter logo, creating a striking and elegant aesthetic that pays homage to the beloved Mickey Mouse in all his timeless glory.
The front of the t-shirt features a meticulously crafted Mickey Mouse logo, intricately embellished with shimmering gold glitter, adding a touch of opulence and enchantment to the design. The iconic silhouette of Mickey, complete with his signature ears and cheerful smile, captures the essence of his playful and timeless appeal, evoking a sense of nostalgia and joy that resonates with fans of all ages.
The contrast between the black fabric and the sparkling gold logo creates a captivating visual impact, symbolizing the enduring magic and charisma of Disney's most beloved character. The glimmering gold glitter accentuates the intricate details of Mickey's silhouette, infusing the design with a sense of luxury and sophistication that makes the t-shirt a standout piece for any festive occasion or casual outing.
The understated yet elegant presentation of the logo serves as a versatile and timeless tribute to Mickey Mouse's enduring legacy, making the t-shirt a cherished addition to any Disney enthusiast's wardrobe.
This Mickey Mouse Gold Glitter Logo Black T-shirt embodies the essence of Disney's timeless charm and festive spirit, making it a perfect choice for embracing the magic of the season during joyful gatherings, theme park visits, or casual outings with friends and family. With its stylish design and subtle festive flair, the t-shirt encapsulates the magic of Mickey Mouse, ensuring wearers can celebrate the joy of Disney in comfort, style, and a touch of dazzling elegance.
Check out our daily videos on facebook.