Description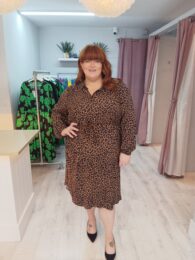 Details: dresses for women, plus size dresses
Only Carmakoma Leopard Print Shirt Dress
full button front
shirt collar
optional tie waist
can be worn as a kimono
midi length
shop more dresses (click here)
100% viscose
Style No: 15304546
Further information:
A shirt dress with a tie waist is a versatile and stylish wardrobe staple that seamlessly merges the classic appeal of a button-down shirt with the comfort and femininity of a dress. This garment is celebrated for its ability to flatter various body types while offering a chic and put-together look suitable for a wide range of occasions.
The shirt dress typically features a tailored top resembling a traditional collared shirt. It may include details such as buttons running down the front, a pointed collar, and long sleeves that can often be rolled up for a more relaxed vibe. The shirt-like top provides structure and a polished appearance, making it an excellent choice for both casual and semi-formal settings.
The defining feature of this dress is the tie waist, which adds a flattering and adjustable element to the outfit. The tie can be made from the same fabric as the dress or a contrasting material, adding a touch of visual interest. It allows the wearer to cinch the waist to their desired level of comfort, creating an hourglass silhouette and enhancing the dress's overall appeal.
The length of a shirt dress can vary, with options ranging from above the knee to midi or even maxi length. This versatility ensures that there's a shirt dress suitable for different seasons and occasions. Shorter versions are perfect for hot summer days, while longer ones offer coverage and warmth during cooler weather.
It can be worn with a variety of footwear, from sandals and trainers for a relaxed look to heels or ankle boots for a more dressed-up appearance. Accessorizing with a belt, statement jewelry, or a hat can add personal flair and elevate the outfit further.
A shirt dress with a tie waist is a chic and adaptable wardrobe essential that seamlessly blends the classic charm of a shirt with the convenience of a dress. Its flattering silhouette and adjustable tie waist make it an excellent choice for women seeking comfort and style in one elegant package. Whether for a casual day out or a semi-formal gathering, this dress is a versatile choice that exudes confidence and sophistication.
Check out our daily videos on facebook for style tips and new arrivals (click here).