Description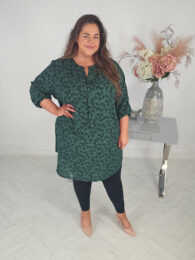 Details: plus size clothing
Only Carmakoma Green Leaf Tunic Shirt
Button down v-neck
3/4 length sleeves with button
rounded hem
100% recycled polyester
shop black leggings (click here)
Style no: 15309701
Further information:
The green and black ladies' tunic made from 100% recycled polyester is a sustainable and stylish garment that combines eco-friendliness with modern design. This tunic is crafted from recycled polyester, a fabric known for its durability, versatility, and positive environmental impact. It offers a range of features and benefits that make it an attractive and conscientious choice for fashion-forward women.
The use of 100% recycled polyester in this tunic reflects a commitment to sustainable fashion. Recycled polyester is created from post-consumer plastic bottles and other discarded polyester items, reducing the reliance on new raw materials and minimizing the environmental footprint. Despite its eco-friendly production, recycled polyester retains the same qualities as virgin polyester, including durability and resistance to wrinkles and shrinking.
The combination of green and black in the tunic creates a visually appealing contrast, adding depth and vibrancy to the garment. The deep green hue, symbolizing nature and sustainability, is complemented by the classic and versatile black, allowing for easy coordination with various accessories and bottoms.
The tunic's design typically features a loose and flowing silhouette that provides comfort and ease of movement. The tunic length varies, often reaching the mid-thigh or knee, offering ample coverage while maintaining a modern and relaxed style. The loose fit makes it suitable for various body shapes, ensuring a flattering and comfortable fit for a wide range of wearers.
The tunic's versatility allows it to be dressed up or down for different occasions. Pair it with leggings or fitted pants for a casual and comfortable look, or combine it with sleek accessories and heels for a more polished and sophisticated ensemble. The durability of recycled polyester ensures that the tunic maintains its shape and color vibrancy over time, making it a long-lasting addition to any wardrobe.
Check out our daily videos on facebook for style tips, sizing and new arrivals.