Description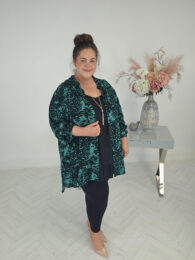 Details:tunic shirts for women
Only Carmakoma Green Animal Print Shirt Tunic

jungle leopard print
full button down
shirt collar
longer length for tunic or kimono style
100% Viscose – Livaeco by Birla Cellulose™
Style No: 15306040
Further information:
A ladies' shirt tunic is a versatile and fashionable garment that offers comfort and style in one elegant package. This wardrobe essential blends the classic elements of a shirt and the longer length of a tunic, creating a piece that can be dressed up or down to suit a variety of occasions.
The shirt tunic combines the structured and polished look of a traditional button-down shirt with the relaxed and flowy silhouette of a tunic. It features a buttoned front closure, a collar, and long sleeves, much like a classic shirt. However, what sets it apart is its extended length, which falls below the hip or mid-thigh, providing coverage and flexibility in styling.
Some shirt tunics are designed with a relaxed, loose fit, offering a laid-back and casual appearance, while others may feature a more tailored silhouette for a polished and sophisticated look.
The versatility of a shirt tunic is one of its standout features. It can be worn in numerous ways, making it suitable for both casual and semi-formal settings. Some ladies like to wear their shirt tunics open to create a kimono look and wear all black underneath to let the tunic stand out on its own.
Here at Michelle's Curvy Boutique we like to pair this look with our black curvy trousers, wet look leggings, black jeans or our basic black cotton leggings.  We also have a range of cami's or black tops that can been worn underneath and a long necklace to jazz up the final look.
Michelle has styled it with our black curvy trousers, black tiered cami and a statement necklace.
Check out our daily videos here.