Description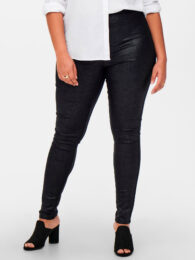 Details: plus size clothing
Only Carmakoma Glitter Coated Pants
Stretchable
Polyurethane coated
Side zip
77% Viscose, 20% Nylon, 3% Elastane
Black glitter detail
Shop more Christmas items (click here)
Item number: 15245650
Further information:
The glitter polyurethane coated black skinny pants encapsulate a bold and alluring statement, fusing edgy style with a touch of glamour. Crafted with meticulous attention to detail, these pants seamlessly combine the sleek silhouette of classic skinny pants with the captivating allure of glitter and a polyurethane coating.
The black base serves as a sophisticated canvas for the infusion of glitter, which creates a mesmerizing effect as it catches and reflects light. The glitter particles are delicately embedded within the polyurethane coating, forming a shimmering surface that adds depth and dimension to the overall design. This innovative coating not only enhances the visual appeal but also provides a subtle sheen that elevates the pants to a striking, head-turning fashion statement.
The skinny fit accentuates the curves of the wearer's legs, creating a sleek and streamlined silhouette that exudes confidence and modernity. The polyurethane coating adds a subtle sheen to the fabric, further enhancing the pants' sleek and polished appearance. The material is carefully selected to ensure both durability and flexibility, allowing for comfortable movement while maintaining the pants' form-fitting shape.
Versatile and eye-catching, these glitter polyurethane coated black skinny pants effortlessly transition from day to night. Pair them with a crisp white blouse and heels for a sophisticated evening ensemble, or opt for a graphic tee and leather biker jacket for a more edgy and casual look. The dynamic fusion of glitter, polyurethane coating, and the classic appeal of skinny pants ensures that these statement-making pants are a wardrobe essential for those who seek to make a bold and contemporary fashion statement.
Check out our daily videos on facebook for style tips, new arrivals and sizing guides.