Description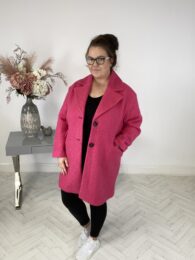 Details: womens coats
Only Carmakoma Fuscia Classic Coat
Reverse neck
Button fastening
Front pockets
Midi length
Polyester lining for a comfortable feel
100% Polyester
Style No: 15295415
Further Information:
A classic woman's coat is a timeless fashion staple that exudes both sophistication and a sense of style that never goes out of fashion. This coat boasts a luscious shade of fushia purple.
The design of a classic woman's coat is characterized by its clean lines and tailored silhouette. It often falls at or slightly above the knee, creating an elegant and flattering look that complements various body types. The  coat's simplicity is its strength, as it can effortlessly transition between formal and casual occasions.
The front of the coat has a 2 button closure. This detail not only keeps you warm during colder months but also adds a touch of sophistication to your overall outfit.
The colour fushia is often described as a vibrant eye catching colour.  A classic woman's coat captures this vibrancy, making it a versatile and refreshing choice, perfect for adding a pop of colour to your wardrobe.
This coat is incredibly versatile, pairing effortlessly with a range of outfits. For a classic and timeless look, wear it over a little black dress and heels. Alternatively, dress it down with jeans, a cozy sweater, and ankle boots for a more casual yet polished appearance. The adaptability of the classic fushia woman's coat ensures that it remains a trusted go-to piece for any occasion.
The classic coat is a symbol of enduring style and elegance. Its impeccable design, timeless appeal, and refreshing color make it a must-have in any fashion-conscious woman's wardrobe. This coat seamlessly combines the beauty of nature with the grace of classic fashion, making it a statement piece that stands the test of time.
Also available in green.