Description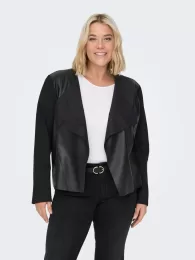 Details: only carmakoma
Only Carmakoma Faux Leather Blazer
Faux leather blazer from ONLY CARMAKOMA
Solid coloured black
Long sleeves
100% Polyester- Polyurethane coated
soft sleeves and faux leather front
Style No: 15301100
The faux leather waterfall blazer from Only Carmakoma seamlessly merges sophistication with edginess, creating a dynamic garment that's both stylish and versatile. This innovative take on the classic blazer silhouette infuses a touch of drama and modernity, making it a standout piece in any wardrobe.
Crafted from faux leather, a cruelty-free alternative to genuine leather, the blazer embodies a commitment to both fashion and ethics. The supple texture of the material allows it to mimic the look and feel of real leather, without compromising on the welfare of animals. The use of faux leather also aligns with a sustainable approach to fashion, making it an attractive choice for those who seek to minimize their environmental footprint.
The hallmark feature of the faux leather waterfall blazer is its cascading, open-front design. The lapels gracefully drape down the front, resembling the gentle flow of a waterfall. This unique detailing adds a touch of fluidity and movement to the structured blazer, imparting an air of elegance that's perfect for both formal and casual occasions.
The blazer's versatility is a key asset. It effortlessly transitions from day to night, easily paired with black trousers for an office look or worn a sleek dress for a dressy evening ensemble. The faux leather material gives it an edgy look, offering a subtle way to infuse attitude into any outfit.  Practicality is not sacrificed for style; this blazer does not have pockets and it has a relaxed fit that allows for comfortable layering. Its adaptability means it can be worn all year-round, serving as a lightweight outer layer during transitional seasons and a statement piece in colder weather.