Description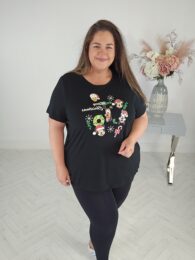 Details: plus size clothing
Only Carmakoma Disney Friends Christmas T-shirt
O-neck
Disney character graphic
Organic cotton
Short sleeves
Shop bottoms (click here)
Style no: 15307031
Further information:
The black Disney Friends character Christmas t-shirt is a delightful and nostalgic celebration of holiday merriment and beloved animated companions. Crafted from a premium cotton blend, the t-shirt offers a soft and comfortable feel, ensuring wearers can revel in the joy of the season with ease and style. The classic black hue provides a sleek backdrop that allows the vibrant and endearing Disney characters to shine with a captivating and timeless charm.
Adorning the front of the t-shirt, a heartwarming ensemble of beloved Disney characters, including Mickey Mouse, Minnie Mouse, Donald Duck, Goofy, and Pluto, dons festive winter attire, radiating infectious holiday cheer. Each character is meticulously rendered in a playful and vibrant style, capturing their unique personalities and evoking a sense of cherished nostalgia and childhood wonder.
The characters, adorned with Santa hats with delightful smiles, evoking a sense of joy and camaraderie that epitomizes the spirit of the holiday season.
Accompanying the joyful scene, delicate snowflakes and wreaths add an extra layer of festive charm, creating a whimsical wintry atmosphere that exudes the enchantment of a magical Disney Christmas. The contrast between the black fabric and the vibrant, meticulously detailed characters and wintry motifs creates a visually striking and endearing aesthetic, making the t-shirt a cherished choice for spreading holiday cheer and celebrating the magic of the season.
This Disney Friends character Christmas t-shirt serves as a beloved addition to any festive wardrobe, perfect for embracing the spirit of the season during joyful family gatherings, spirited holiday parties, or nostalgic outings to the Disney parks. Its playful design and heartwarming charm capture the essence of Disney magic and holiday joy, ensuring wearers can celebrate the wonder of Christmas with comfort, style, and a touch of timeless enchantment.
Check out our daily videos on facebook.