Description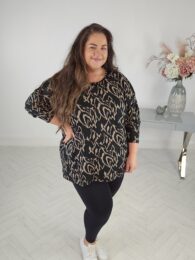 Details: jumpers for women
Only Carmakoma Curvy Patterned Jumper
3/4 Sleeves
Soft knit
O-Neck
95% Polyester, 5% Elastane
shop more jumpers (click here)
Style No: 15307988
Further information:
The 3/4 sleeve ladies soft knit jumper is a versatile and comfortable wardrobe staple that effortlessly combines style and coziness for the modern woman. This classic piece of clothing is perfect for transitional seasons when you want to stay warm without the bulk of a full-length sweater.
One of the standout features of this jumper is its 3/4 sleeves. This sleeve length strikes the perfect balance between keeping you comfortably warm and allowing you to showcase your favorite bracelets or wrist accessories. It's an ideal choice for those in-between days when the weather isn't quite cool enough for a long-sleeved sweater but a short-sleeved top doesn't offer enough coverage.
The soft knit fabric of this jumper is a key highlight. It's typically made from a blend of high-quality materials like cotton, acrylic, or a mix of natural and synthetic fibers. This combination ensures a soft and luxurious feel against the skin while providing excellent insulation to keep you warm on chilly days.
The knit texture adds a touch of elegance and visual interest to the jumper. It creates a subtle, attractive pattern that enhances the overall appeal of the garment.
The 3/4 sleeve ladies soft knit jumper often features a relaxed fit, making it incredibly versatile for various occasions. You can wear it casually with jeans for a laid-back look or dress it up with a skirt and accessories for a more polished appearance. The versatility of this jumper makes it suitable for everything from a casual day at the office to a weekend brunch with friends.
Available in a wide range of colours and styles, you can easily find a 3/4 sleeve knit jumper that suits your personal taste. Whether you prefer classic neutrals, vibrant hues, or trendy patterns, there's a jumper to match your fashion sensibilities.
Check out our daily videos on facebook for style tips and new arrivals. (click here)