Description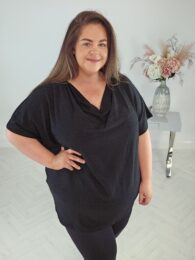 Details: plus size clothing
Only Carmakoma Cowl Neck Top
contrasting black glitter stripe
short sleeves
regular fit
cowl neck
shop black trousers (click here)
80% viscose, 20% metallic fibres
Style No: 15305006
Further information:
A black cowl neck top is a classic and versatile piece of clothing that combines both style and comfort. It is a wardrobe staple that can effortlessly elevate your fashion game while ensuring you remain cozy and chic.
The defining feature of a cowl neck top is its distinctive draped neckline. The fabric gracefully drapes down, creating a loose and elegant fold that adds depth and dimension to the garment. This unique neckline design not only sets it apart from regular tops but also offers a touch of sophistication and femininity.
Black is a timeless and versatile color that is universally flattering and easy to pair with various other pieces in your wardrobe. A black cowl neck top exudes an air of understated elegance and can serve as a canvas for accessorizing and layering.
The fabric choice for a black cowl neck top can vary, allowing you to find the perfect one for different seasons. Lightweight options in materials like jersey or cotton are excellent for a comfortable and breathable feel in warm weather. For cooler seasons, you can opt for thicker fabrics such as knit or wool, providing warmth and coziness.
Styling a black cowl neck top is a breeze due to its versatility. For a casual look, pair it with jeans or leggings and some trainers or flats. To dress it up for more formal occasions, tuck it into a skirt or tailored pants, add heels, and accessorize with statement jewelry or a belt.
This top has beautiful pin stripe of glitter going across the garment.
Check out our daily videos on facebook for style tips and new arrivals. (click here)