Description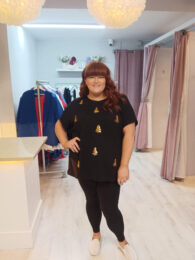 Details: plus size clothing
Only Carmakoma Christmas Tree Festive T-shirt
O-neck
Christmas tree embellishments
Organic cotton
Short sleeves
Shop bottoms (click here)
Style No: 15305652
Further information:
The black Christmas t-shirt adorned with shimmering gold sequin trees is an elegant and sophisticated ode to the festive season. Crafted from a premium cotton blend, the t-shirt offers a luxuriously soft touch against the skin, providing both comfort and style for any holiday occasion. Its sleek, classic crew neckline and short sleeves contribute to a timeless silhouette that effortlessly transitions from day to night, making it a versatile addition to any festive wardrobe.
The rich ebony backdrop of the t-shirt serves as a striking canvas for the elaborate design, allowing the golden sequin trees to gleam and sparkle with a captivating brilliance. The intricate detailing of the sequin trees creates a sense of depth and texture that withstands the test of time.
The trees stand majestically against the dark backdrop, adorned with an array of sequins that catch and reflect the light, evoking the enchanting glow of a starlit winter night. The meticulously placed sequins form intricate patterns that mimic the delicate silhouette of a Christmas tree, infusing the design with a sense of natural grace and beauty.
The contrast between the bold black fabric and the opulent golden sequins creates a stunning visual impact, symbolizing the harmony between the mystical charm of the winter season and the timeless elegance of the holidays. The shirt exudes a sense of refined festivity, making it an ideal choice for upscale gatherings, intimate celebrations, or sophisticated evening events during the festive period.
With its understated yet luxurious design, this black Christmas t-shirt with gold sequin trees embodies the essence of seasonal opulence, offering wearers a touch of glamour and grace that effortlessly captures the magic and splendor of the holiday season.
Check out our daily videos on facebook for new festive arrivals.